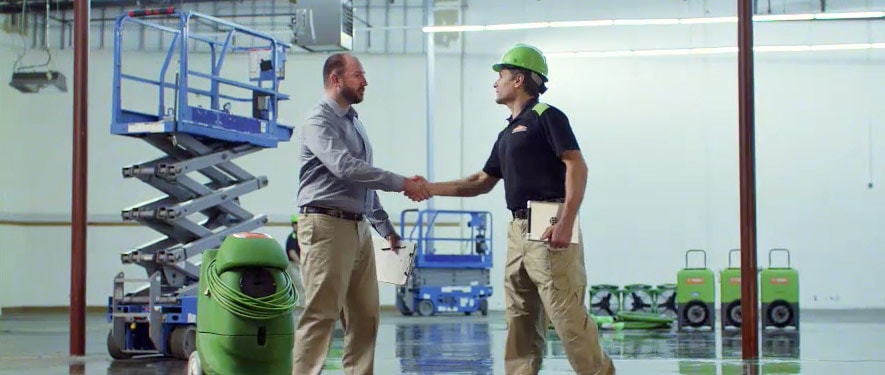 Commercial Services
SERVPRO® of Guelph Commercial Fire Restoration Team,
Because of our abilities to complete fire losses from start to finish many businesses in the Guelph, Kitchener, Cambridge, and Waterloo areas have contacted SERVPRO of Guelph.
Our commercial fire loss teams have assisted many local Business Owners, and Property Managers. SERVPRO® of Guelph have completed losses in Education Facilities, Healthcare Facilities, and Hospitality Facilities. We will ensure your School, Hotel, Apartment Building, Hospital, Long Term Care Facility, Shopping Mall, and place of business is restored to pre-fire condition. Our customers have looked to our expertise and training to help restore their properties after fire a loss occurs. These situations can be devastating for our community, so it is vital to work quickly to mitigate the loss and reduce the amount of time your students, customers, patients, residence, and workers are displaced.
At SERVPRO® of Guelph, our commercial fire professionals must continue their education into modern practices, equipment, and products. Our fire recovery specialists have accreditations and endorsements through the Institute of Inspection, Cleaning and Restoration Certification (IICRC), as well training at our SERVPRO® Headquarters in Gallatin Tennessee.
SERVPRO® of Guelph is a one-stop shop for fire recovery, offering effective mitigation services, deodorization, and fire debris cleanup which seamlessly transitions to reconstruction and repair.
When fire takes control of your life, we help you take it back.
SERVPRO® of Guelph is available 24/7/365 by calling (519) 837-8787
Small Office Buildings
Large Office/High-Rise Office Buildings
Apartment Buildings
Restaurants
Hotel/Motels
Small Retail Stores
Large Retail/Big-Box Stores
High-Rise Residential
Manufacturing & Industrial
Government/Military
Have Questions? Call Today – (519) 837-8787
Commercial Building Restoration Services
We are available 24 hours a day to get your Kitchener business back up and running. Our expertise includes restoration services for fire and water damage, including electronics restoration and document drying. We are also your business's best resource for mold remediation. Learn more about our commercial restoration services:
Commercial Building Cleaning Services
SERVPRO of Guelph, Kitchener, Waterloo, and Cambridge offers professional cleaning and preventative maintenance for your carpet and upholstery that keeps your property looking its best. Our cleaning system offers a number of specialized cleaning options to match your needs. Whether your business needs a deep cleaning or a persistent odor removed, you can trust SERVPRO of Guelph, Kitchener, Waterloo, and Cambridge. Learn more about our commercial cleaning services: